Paris
Ah, Paris! The place everyone assumes we are when we tell them we are living in France for a few months!
As you can see in the map below, Luxembourg is actually the closest big city to Metz (Metz is the blue map pin.) Luxembourg is quite easy to visit, even for just an afternoon.
Of course, Paris seems very "accessible" for us from Metz, thanks to a TGV line running between the two cities, but there are tradeoffs between time and expense that make it difficult to just pop over to Paris for a weekend visit.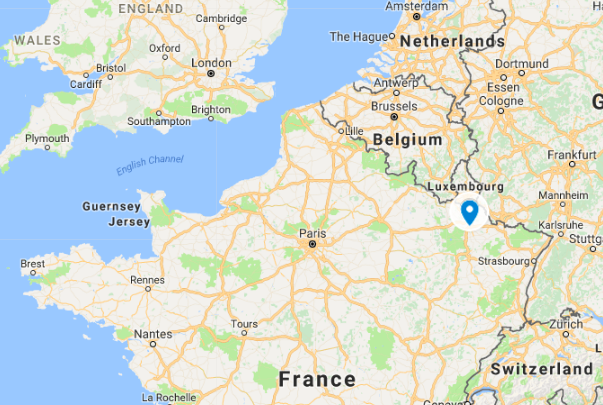 Modes of Transport
The TGV can get us from Metz to the Paris Est station in just under 1.5 hours. Unfortunately, for 2 people, this costs just about 300 EUR.
There are affordable buses for only about 50 EUR round trip, but you lose the speed of the TGV. A bus ride from Metz to Paris can take from 4.5 to 9 hours. Of course, the 4.5 hour option is actually more like 90 EUR round trip too.
A rental car is much cheaper, at first glance, than the train. We could rent a car for the weekend for about 170 EUR. The drive would take 3 to 4 hours, so a little faster than the bus. But then you have a car in Paris. Where do you park it? That probably is quite expensive. I would guess that with parking, fuel and the added hassle of driving a car around an unknown city, the car works out to cost almost as much as the train, without the benefits of . . . you know, being a train.
If you have the time and can select the fastest line, the bus option definitely seems like the most affordable solution.